A binary level barcode developed by Intermec Corp., in 1975.

It codes 43 characters, alpha-numeric and seven marks; Named from that three bars in nine (consists of 5 black bars and 4 white bars) are wide.

For its many character types and lower misreading rate, it is standardized in ANSI, and adopted by LOGMARS (Logistics Applications of Automated Marking Reading Simbols) of the Department of Defense (U.S.), AIAG (Automotive Industry Group, in U.S.), HIBC (Health Industry Business Communication Council), etc.
In Japan, it is adopted as a standard of governmental and private industries, by EIAJ (Electronic Industries Association of Japan), etc., and is standardized in 1994, as JIS X 0503.
Summary
Character Composition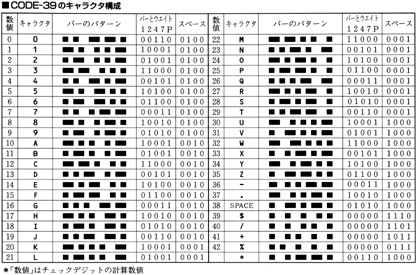 ASCII expression by using CODE-39
CODE-39 can express full-ASCII by two characters.
The patterns of combination is as follows: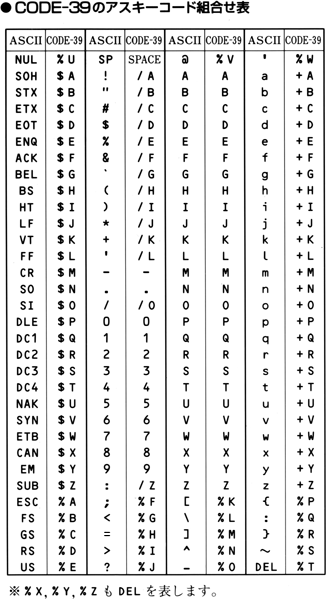 ---
---
Copyright 1997-1998 © Nippon Barcode Co.,Ltd.. All rights are reserved.