The word Matrix originally means glyph or mold of type and font; in this case, have means in both black and white bars.

Bars consists of three black bars and two white bars; two bars in them are wide bar (and others are narrow).

For its apperance, looks like three black bars makes one character, it has higher density than other barcode symbols.
Summary
Character Composition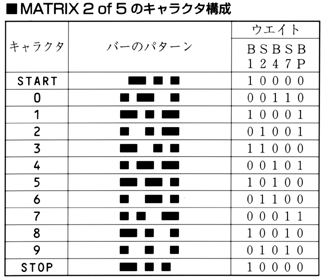 ---
---
Copyright 1997-1998 © Nippon Barcode Co.,Ltd.. All rights are reserved.