Basic structure of 2 of 5
2 of 5 barcode is, pioneer in many types of barcode, a binary level barcode developed by Identicon Corp. and Computer Identics Corp. in 1970.

Basically it consists of 5 bars: 2 wide bars and 3 narrow bars. former 4 bars in 5 have weight and the sum of weight indicates the value.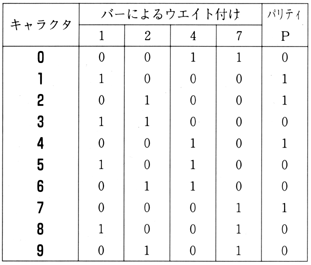 As the table above, except 0, the sum of weight comes the digit of character. Adding a parity bit for self check, the number of 1 (= wide bar) comes to 2.
This simple structure breeds many type of 2 of 5 barcodes
* Industrial 2 of 5
It has used so often for industry, but for its low ability that it expresses only numerics, and for its low density, the CODE-39 barcode took the place.

Conversely, its low density and its simple bar structure, is suitable for cardboard printing, so it is now often used for management of physical distribution.
Summary
Character Composition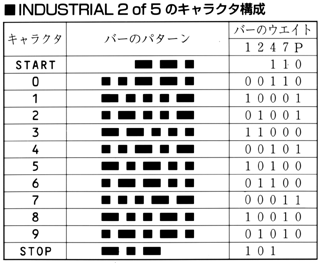 ---
---
Copyright 1997-1998 © Nippon Barcode Co.,Ltd.. All rights are reserved.